Sedo and InterNetX have joined forces to evaluate, analyze and summarize over 135 million data points. Covid-19 and its effects were also a special focus in this report. In addition, the report is peppered with tons of industry expert insights, numerous diagrams, graphics and tables.
Excerpt from the report
Impact of the pandemic on domain trading
After almost a year since the outbreak of Covid-19, we are now in a position to see what impact the pandemic has had on the domain industry and in particular on Sedo's domain secondary market. Our analysis shows that the pandemic has positively impacted trading and boosted domain sales in 2020.
The demand for domains has increased, as evidenced by the number of total sales: There was a 26% increase compared to the previous year.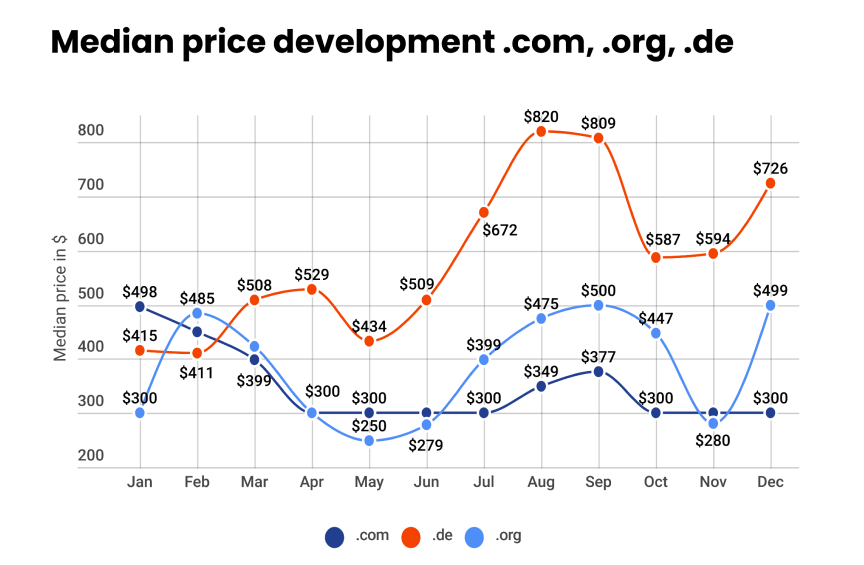 If we look at the development of monthly median prices in the first half of the year, we see that the median for .com has actually decreased month by month. And .org is also following this trend in an almost exemplary fashion. So it is quite possible that the pandemic is responsible for this drop in sales values. In comparison, however, the domain extension .de shows a much better performance - but why? The explanation could be: Germany was very well prepared compared to other countries during the pandemic and the ensuing restrictions and lockdowns, so the impact was still dramatic, but not comparable to the economic damage in Italy or Spain etc.
The upward trend for .de could be due to the fact that digitization has become more urgent and important than ever before. This could be one reason why the demand for domains ending in .de has been stronger than in other countries during this period.
A must-read for domain sellers and investors
Further analysis and top 10 sales lists of the most expensive domains under specific top level domains can be viewed in the Global Domain Report 2021. In addition, the report also contains a lot of analysis and opinions from various experts and players in the domain industry about the turbulent year in 2020, the impact of the COVID-19 pandemic on their business and what they expect for the future.
You can download the Global Domain Market Report for free here.